Designer: Alfred Tull 1953, Rees Jones 2015
Opened: 1953
| | |
| --- | --- |
| Black Tees: | 73.9/130 Par 72 Yards 7040 |
| Blue Tees: | 71.2/126 Par 72 Yards 6397 |
| White Tees: | 68.2/115 Par 72 Yards 5841 |
| Gold Tees: | 72.4/124 Par 73 Yards 5570 |
Current Hours of Operation:
Weekdays: 8:00 AM to Dusk
Weekends: 8:00 AM to Dusk

USGA RULES GOVERN ALL PLAY EXCEPT WHEN MODIFIED BY LOCAL RULES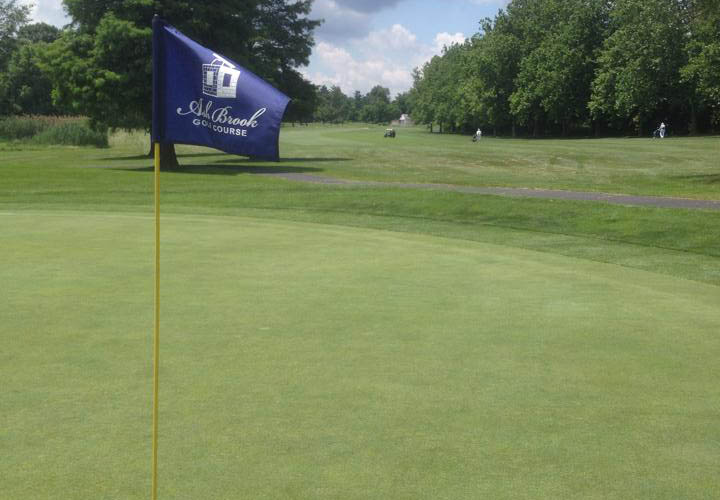 CONDITIONS OF PLAY
All golfers must purchase a greens fee ticket before utilizing the facilities.
Each golfer must have a bag and at least 3 clubs, one of which must be a putter.
No starting on the tenth tee without permission from the starter.
No more than 4 players are permitted to play together.
All persons must be properly attired; no sleeveless shirts, no short-shorts, jeans must be clean with no holes, shirts must have collars and proper golf shoes must be worn.
No more than 2 golfers and 2 golf bags allowed on a cart at any time.
Children under 9 years of age are not allowed on the course without adult supervision.
No outside alcoholic beverages allowed on the course, all alcoholic beverages must be purchased from the clubhouse.
COURTESIES TO REMEMBER
Please repair divots and ball marks, smooth footprints in bunkers and keep course clean.
Only one golfer on the tee at a time. No practice swinging on tees.
Please obey the ranger and maintain a 4 hour and 20 minute pace of play.
Keep all carts away from greens, tees, aprons and wet areas. Use cart paths whenever possible and obey all signs.